Lot 100497 –
Tirage spécial de 1896 : Série complète de 11 valeurs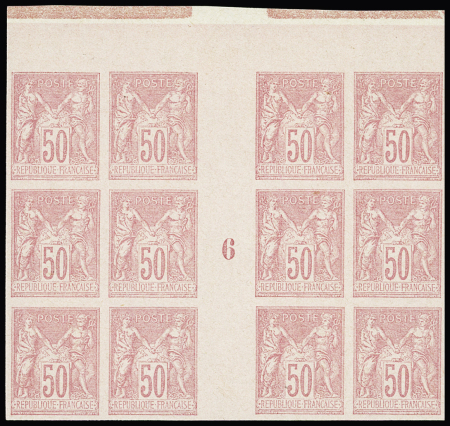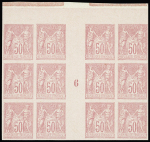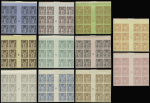 Description:
Tirage spécial de 1896 : Série complète de 11 valeurs non dentelées en blocs de 12 inter-panneau avec millésime 6 (les 11 valeurs en service à cette date), n° 80,83, 85, 87, 88, 90, 94, 96, 97, 98, 106, imprimées pendant le 1er trimestre de 1896, (le 30c bloc de 12 constitué par un bloc de 9 + bande de 3), SUP, Unique car le seul millésime disponible.
Grande rareté du Type Sage
Please note that we are still working on adding images for the lots. If the lot you are interested in does not have images available yet, we invite you to check again in a few days.
If you still cannot find the images you are looking for in a few days, please send us a message. Important: don't forget to mention the lot number(s).
Thank you for your understanding.
Login to your account
---
You don't have an account yet?