Lot 100285
Western Europe » Schweiz / Suisse / Switzerland » Sitzende Helvetia Gezähnt
Lot 100285 –
Tentative d'entrée dans Paris depuis la SuisseLettre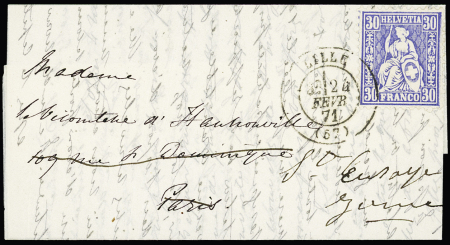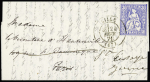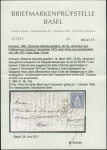 Description:
30C ultramarin übergehend entwertet mit Doppelkreisstempel LILLE 24 FEVR. 71 auf kleinem Faltbrief geschrieben in Coppet 4. November 1870 als "Tentative d'entrée" adressiert ins belagerte Paris, umadressiert nach Yonne, Attest Eichele
Tentative d'entrée dans Paris depuis la Suisse : Lettre datée de Coppet en Suisse le 4 novembre 1870 pour Paris avec un 30c oblitéré avec càd Lille 24 février 1871, réadressée vers l'Yonne, TB et rare, cert. Eichele
41
Please note that we are still working on adding images for the lots. If the lot you are interested in does not have images available yet, we invite you to check again in a few days.
If you still cannot find the images you are looking for in a few days, please send us a message. Important: don't forget to mention the lot number(s).
Thank you for your understanding.
Login to your account
---
You don't have an account yet?